Intellectual Property Law
VIEWED THROUGH A DIFFERENT LENS

Intellectual property (IP) is at the heart of most businesses in today's commercial landscape. With the ever increasing globalisation of trade channels, including online, ensuring that your IP is protected, and is protected in the right markets, is paramount.
Before you commercialise your IP, you should ensure that your IP rights are protected. Protecting your IP involves a careful consideration of what IP rights you already have, what IP rights are available, determining what protections are required and making the appropriate applications.
An effective IP protection strategy is crucial to a successful business, particularly prior to expanding trade channels into international markets. A strong and secure IP adds tangible value to your business as those IP rights can be commercialised through licenses, franchises, assignments or even sold. A strong IP portfolio can also significantly increase the value of your business on sale.
We have in-depth knowledge and experience when it comes to managing your IP assets. We regularly advise on a full spectrum of intellectual property issues, including brand protection and trade marks, copyright, licensing and intellectual property infringement and disputes.
IP from a different perspective.
Our Intellectual Property expertise includes:
Trade Marks:
Trade Mark Searching
Australian and International Trade Mark Registrations
Trade Mark Portfolio Management & Renewals
Domain Names Protection & Disputes
Business Name Protection
Trade Mark Infringements, Enforcement and Litigation
Trade Mark Commercialisation & Licensing
Designs:
Filing and prosecuting Designs to certification
Identifying the new and distinctive aspects of a Design
Australian and international filings for domestic and international clients
Litigation and dispute resolution
Registration renewals
Copyright:
Advice on copyright subsistence, ownership, acquisition and licensing
Preparing documentation proving ownership of copyright
Copyright clearances and due diligence enquiries
Assignments of copyright
Infringements, Enforcement and Litigation
Commercialisation & Protection
Corporate structuring for tax efficiency, risk management and investment
Contractual arrangements, including licence agreements, supply and distribution agreements, and trading terms
Confidentiality agreements to protect confidential information and trade secrets
Franchising arrangements
Trade promotion and marketing campaigns:
Advising on promotion concepts and any issues that may arise before, during or after a promotion
Drafting terms and conditions and minimal terms and conditions
Liaise with trade promotion regulators, including applying for permits when required
Reviewing various forms of artwork including print, packaging, digital, point of sale and TV and radio commercials
Our Intellectual Property Law Team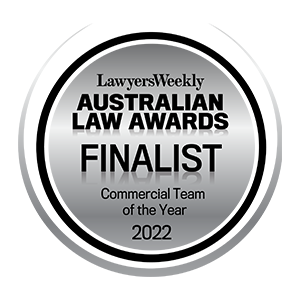 Intellectual Property Insights
ARE YOU READY TO LOOK AT LAW FROM A DIFFERENT PERSPECTIVE?